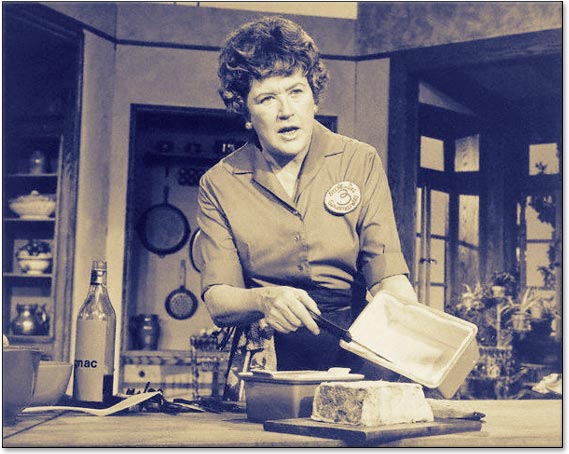 Consider the following (hypothetical) scenarios:
What if Julia Child was bulimic?

What if Martha Stewart is a food hoarder?
What if Mario Batali is a binge eater?
What if Ruth Reichl had anorexia as a teenager?
Disclaimer: I don't have any inside information here, and these aren't guesses so much as "what ifs." I could have mixed up any of these names and any of these conditions, and my point would have been the same: could you feel the same way about them as you now do? 
I am assuming, of course, that you feel anything about them at all; assuming that you even know who they are (that you live in the United States); assuming that you, like me, grant them greater power over their plates and their love handles than the rest of us have. 
How would you feel about the way that you eat if you found out that some of the greatest cooks and food critics have struggled with similar issues? How would your image of the food industry change if you suddenly started to see pathology, instead of pleasure, every time you opened up a glossy food mag?
I, for instance, when I read Ruth Reichl's food memoirs or her editorial welcome in
Gourmet
, invent a story in my head that she is one of those rare people who
have no food problems.
I imagine that she's the kind of person who can eat out every night, enjoy seven-course tasting menus at the drop of a hat, and ignore the early-morning alarm clock the next day urging her to get up and go to the gym to work off all of that goose fat. Her food writing -- like most out there -- is so awash in whimsy and delight that I can hardly believe that
her
food
is the same as
my
food.
My
food -- what is
my 
food, exactly?
My food is hard won and hard gained. I swung back and forth on the seesaw of divine restriction and vulgar abundance before coming to rest here, somewhere in the middle -- some days higher, some days lower. Just nudging back and forth, gentle-like, like a pendulum in a light breeze.
My food takes effort. I could tell you about the times I beat egg whites by hand, and kept a low oven on overnight to dry apples, and gathered blackberries by the side of the road. My food is worth the labor that I have put into it, the dints of exertion, and the disappointments.
My food takes love. It is about nourishing the people I love, and learning to love the food that nourishes me.
This love of food took a long time coming. Anorexia, bulimia, call it what you will -- I am no poster child for food, I am no Thomas Keller or Alice Waters or Lynne Rossetto Kaspar. I don't own a trendy cupcake shop or eat at New York's most fashionable restaurants. But what if -- and this suggestion came by way of a friend who had worked in the high-end restaurant business -- my problems are not unknown among
them?
What if someone or other of these great food people has also found herself on the edge of alimentary madness, staring deep into the abyss of
just another bite
? 
These are the things I wonder about, when I borrow a recipe of theirs or plan my meals in advance or take secret pleasure in the color of an eggplant. Is this new just for me, this joy? Or have others struggled as I have, to at last see and touch and smell and
taste,
at long last? Were they born with something that I have had to acquire through long toil? Finally, does it matter whether our passion for food came from a lucky set of taste buds or a disorder, if we all find a way to love our food in the end?