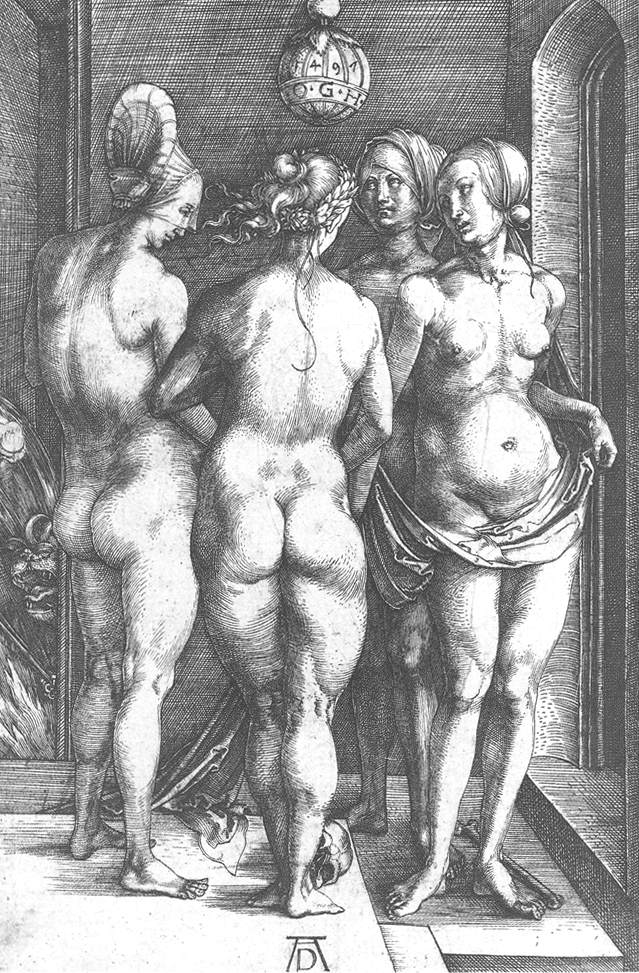 This is one of my favorite engravings by Dürer,
Four Witches, or Judgment of Paris
. It was created in 1497, just five years after Columbus reached the New World.
I have a copy of this image hanging in our bathroom, to remind me as I come out of the shower that a rounder female form was once admired, in Renaissance Europe. These women, whether witches or goddesses, are
powerful
. They form a closed group, a harmonious circle, talking over man's fate amongst themselves. They are grown, mature, and fertile, and I wonder if they don't represent the kind of full female power that has been shoved aside so violently in our current 21st-century adulation of slenderness.
Imagine! These are women who menstruate, women who give birth, women who bathe in moonlight and practice divination. These are the kinds of women who frighten the powers-that-be, wonderful witchy wives.
Tonight, I wish I could be like them, reveling in the feel of air on flesh, unafraid of my own nakedness, joined in sisterhood with other women. Tonight, I invoke them in my efforts to find my way back to my own round body and its needs.